UAB Neofila


Savanori

u pr. 214A

,

P.O. Box 107


LT-50194, KAUNAS, 9-as pastas
LITHUANIA

Phone: +370 626 89304 e-mail: stamps@neofila.com Website: www.neofila.com

Registration code: 300047818, VAT payer code: LT 100001171710
You can check our VAT code validation at EUROPA VIES site
We offer stamps, Year Sets, FDC and other philatelic items issued after 1990 years
from Baltic States, former Soviet Union, former Yugoslavia and former Czechoslovakia, some countries from Africa, Oceania and Asia:
Armenia, Azerbaijan, Belarus, Bosnia-Herzegovina: (Main, Sarajevo), (Croatian, Herceg Bosna, Mostar), (Serbian, Republika Srpska), Croatia, Czech Republic, Estonia, Georgia, Kazakhstan, Kosovo, Kyrgyzstan, Latvia, Lithuania, Montenegro, Macedonia, Moldova, Russia, Serbia, Serbia-Montenegro, Slovakia, Slovenia, Tajikistan, Turkmenistan, Ukraine and Uzbekistan.
Official local stamps from Kosovo UNPA, Kraina (Krajina), Abkhasia, Mountainous (Nagorno) Karabakh, Pridnestrovie (PMR, Transnistria, DMR), Nakhichevan, South Ossetia (Osetia), Touva (Tuva) and other local issues are available.
AFRICA countries:
Angola, Benin, Botswana, Burundi, Cape Verde, Central African Republic, Chad, Comoros, Congo (Kinshasa, ex Zaire), Djibouti, Ethiopia, Gabon, Guinea (Conakry), Guinea-Bissau, Ivory Coast, Mozambique, Namibia, Sao Tome and Principe, Sierra Leone, Togo and Uganda.
ASIA and OCEANIA countres:
Maldives, North Korea (DPRK), Solomon Islands
Pricelists-catalogues are at

Also we offer MINT STAMPS COLLECTIONS from various countries
AGENCY
NEOFILA is official agent of Belarus Post, Czech Post, Kazakhstan Post and Ukraine Post
NEWS LETTERS
Each month we issue NEWS LETTERS where we list latest issues. You can see them at NEWS
If you want to get this information by e-mail please ask.
NEW ISSUE SERVICE
Our New Issue Service guarantee that stamps will not be out of stock when you decide to order them.
You can fill STANDING ORDER form and send it for us by post or by e-mail.
TOPICAL STAMPS
Stamps from countries listed above can be grouped into TOPICS.
Please, send for us the names of topics and you will get stamp lists in return.
PAYMENT OPTIONS
We accept payment by bank to IBAN, by VISA or MASTERCARD and by PayPal.
Please, contact us by e-mail for these methods of payment.
Privatumo politika / Privacy policy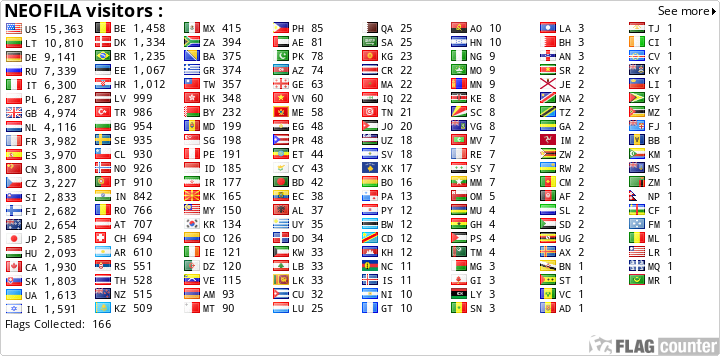 FLAG COUNTER started here on April 21st, 2012 Hey.lt started here on June 6th, 2014 COUNTRY CODE LIST